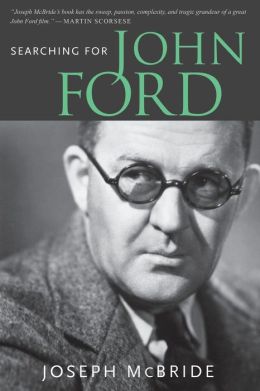 The book that has dominated my summer reading list this year is
Searching for John Ford
by Joseph McBride, a thoroughgoing (800-page!) biography of legendary Hollywood film director John Ford. While not as beautifully written as Simon Callow's masterful two-part biography of Orson Welles (cited
here
), McBride's tome makes up for its slight dearth of poetic eloquence by providing an extremely well-researched and nuanced account of Ford's very complicated life and public persona. Given the contradictions inherent in Ford's life and therefore in accounts of his life, McBride's attention to detail, and his ability to weigh and evaluate the merits of conflicting reportage on the volatile director, make this book essential reading for anyone interested in Ford, the Golden Age of Hollywood, and/or the history of the western film genre.
What makes John Ford so complex, and therefore so intriguing? Well, like his contemporary Howard Hawks, Ford seemed to revel in misleading and stonewalling interviewers, downplaying his achievements and disavowing how much he cared about his films. Unlike Hawks, who seemed quite comfortable in his masculinity and genuine in his unchecked male chauvinism, Ford's public front as a rough and tumble "man's man" masked a tortured spirit, plagued by alcoholism, who was always fearful that outsiders might see through to the passionate artist within. In short, Ford had a "feminine" side that Hawks lacked, and this may in part account for the depth and beauty of his work, which is pervasively concerned with the plight of immigrants, outsiders, and women trapped within the domestic sphere.
Ford's most famous public utterance -- his 1950 announcement to the members of the Screen Directors Guild that "I'm John Ford. I am a director of westerns" -- best sums up his superficially laconic attitude, since it both understates the importance of the westerns he made (making his direction of them sound simple and
laissez-faire
) and simultaneously disregards the many cinematic masterpieces he directed outside his "home" genre (by identifying himself solely with westerns). However, while many of Ford's non-westerns like
How Green Was My Valley
,
The Grapes of Wrath
, and
The Quiet Man
are undisputed masterpieces (and Academy Award winners), in broad terms Ford's identification with the western is appropriate since no other director before or since (with the possible exceptions of Anthony Mann and Sam Peckinpah) has so consistently imbued the genre with such sublime visual artistry and thematic richness. As McBride writes, in his work directing westerns:
[Ford] was searching for what he considered the core American values and testing them under fire. As deeply engaged politically as any director dealing with issues "ripped from today's headlines," Ford invited his audience to contemplate root causes and participate in an emotional and intellectual dialogue with his work.*
To start with the westerns -- and mind you, I haven't yet seen all the extant ones** -- we can easily name the four or five that are simply essential to the history and development of the genre:
Stagecoach
(1939),
My Darling Clementine
(1946),
She Wore a Yellow Ribbon
(1949),
The Searchers
(1956), and
The Man Who Shot Liberty Valance
(1962).
Stagecoach
"legitimized" the sound western and is a near-perfect film, greatly influential upon
many other directors
.
Clementine
is one of the best and most influential cinematic dramatizations of the shootout at the O.K. Corral, and
Yellow Ribbon
is probably the best of Ford's three films on the U.S. Cavalry during the Indian Wars (though
Fort Apache
is also superb).
The Searchers
and
Liberty Valance
darkened and deconstructed the western genre a decade before directors like Peckinpah and Sergio Leone claimed credit for doing the same.
I would also single out
Wagon Master
(1950) as a personal favorite -- it being an upbeat, intimate little western that seems the closest Ford ever came to capturing the warm, comradely feeling one gets when watching Howard Hawks'
Rio Bravo
. Normally Ford is darker and more complex than Hawks, but
Wagon Master
is a delightful, humanistic, relatively straightforward western romp.
Harry Carey, Jr. and Ben Johnson in Wagon Master.
It is important to remember that part of the reason Ford is so strongly identified with the western is not only because he directed several of the all-time best ones but because he directed fifty four westerns over the course of his career!***
Maureen O'Hara and John Wayne in The Quiet Man.
Beyond the western, there are such Ford classics as
The Informer
(1935),
Young Mr. Lincoln
(1939),
The Long Voyage Home
(1940),
The Grapes of Wrath
(1940),
How Green Was My Valley
(1941), and
The Quiet Man
(1952), to highlight but a few. In my view,
The Grapes of Wrath
is the single best of that lot, and one of Ford's best films, period. The high-contrast cinematography by Gregg Toland is amazing, and Tom Joad is one of Henry Fonda's all-time greatest performances. I consider
The Grapes of Wrath
a must-see for any film fan, whether or not that fan has any special interest in Ford.
The Grapes of Wrath, one of John Ford's all-time career masterpieces.
McBride also highly recommends Ford's
Pilgrimage
(1933) from the non-Western side of the director's repertoire.
In addition to necessarily brief discussions of the production, release, and reception of all Ford's many extant films, McBride's book covers in extensive detail Ford's activities during the 1940s and 1950s Hollywood blacklist era. Ford was a FDR New Deal Democrat in the 1930s and early '40s, but his politics leaned to the right in the postwar years. While he never testified before Joseph McCarthy's House Un-American Activities Committee (HUAC), Ford did little to prevent blacklisting in Hollywood, despite his earlier strongly professed loyalty to the other directors in his business. In politics as in all else, Ford was a contradictory man, and McBride nuances Ford's slow, jerky conversion from pro-labor leftist to virulent anti-Communist over the politically tumultuous decades of the Red Scare.
In short, I recommend this book to anyone interested in Ford, who was one of Hollywood's most talented, influential, ornery, and contradictory figures. But while this hefty tome may not be of interest to casual fans of the western or the Golden Age of Hollywood, I cannot emphasize enough that Ford's films are eminently worthy of your attention. If you do nothing more than watch, say, three Ford films -- I recommend
The Grapes of Wrath,
one western (
Stagecoach
or
The Searchers
are probably the best choices), and maybe one adventure film like
The Long Voyage Home
or
Mogambo
-- you will be treating yourself to a masterwork by one of the most visually accomplished and humanistic directors the Hollywood cinema has ever known.
To wrap up on an iconoclastic note, here is one of the more amusing Ford factoids revealed by McBride:
Ford devised some deviously clever tricks to safeguard his editorial control [over his films] even further. One was his habit of sitting in his director's chair immediately under the front of the lens of the camera. At the same time he called "Cut," he would put his fist in front of the lens. That way, if the cameraman was inclined to keep the camera running a bit longer than Ford wanted, the extra footage at the end of the scene would be rendered unusable.†
John Wayne and John Ford; the latter made the former a star
by casting him as the Ringo Kid in Stagecoach.
UPDATE 10/17/2014:
Here is a
smart online essay
about
My Darling Clementine
.
--
* McBride p. 416, 418.
** Sadly,
like approximately 90% of all silent films ever made
, the majority of Ford's many silent film westerns are now lost.
*** McBride p. 278.
† McBride p. 252.